Support
Get the HylaFAX support you need from the experts at iFAX Solutions! As the core members of HylaFAX Open Source and the makers of HylaFAX Enterprise Edition, we support both platforms for your mission critical faxing.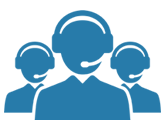 Get Help Now
HylaFAX and HylaFAX Enterprise support are available to customers with an annual support plan, or who have purchased per hour support. Please use the form below or call 215-825-8700 ext. 2 to create a new support ticket.
* For customers who have not yet purchase a support plan or per hour support, please contact our sales department to discuss available support options.