Support
HylaFAX Open Source Support
HylaFAX Open Source Support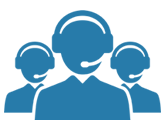 Plan Details
Our HylaFAX Open Source Support Plans are a value-priced option that still provide the security needed for serious fax implementations. Basic Plan support is available Monday to Friday, 8:30 – 5:30 EST. If your organization requires 24×7 support and the fastest possible response then our premium support plans are the answer. You receive an increased number of customer contacts and the top two levels include a second fax server at no additional charge.
Phone: 215-825-8700 ext. 2
Fax: 215-243-8335
Hours: Monday – Friday from 8:30am – 5:30pm EST.
Email: Support Inquiries
HylaFAX Open Source Documentation
Within the larger HylaFAX community, iFAX Solutions hosts several free resources that may be of interest. Each resource is a form of "documentation by the community, for the community" and, whether you have the answers or just the questions, you are welcome to join and contribute.
HylaFAX Handbook The HylaFAX Handbook is the official documentation for the HylaFAX project.
How-To Guides Several how-to guides are provided to work through common HylaFAX issues.
Mailing Lists We encourage all users of HylaFAX to join the mailing lists and contribute back to the community. There is a searchable archive going back to 1997.
FAQ The hylafax.org FAQ contains a large amount of information about the project.