Fax Over IP and HylaFAX
Organizations are integrating IP telephony into their existing IP infrastructure to reduce costs and lower the complexity of their communications and data infrastructures. Fax can take advantage of these enhancements as well as provide a centralized fax environment with easier deployments and eliminate hardware restrictions. By connecting to leading IP PBX and T.38 enabled gateways from Cisco, Avaya, Siemens, 3com, Dialogic, AudioCodes, Quintum and others, companies can obtain the benefits of converged networks, least costs telephony routing, and virtualization.
Fax Over IP and HylaFAX Enterprise
FoIP deployments will allow customers to integrate FoIP via hybrid (FoIP/TDM), pure VoIP IP PBX, or by a T.38 service provider. The diagram below shows how traditional small business through enterprise customers can implement FoIP into their existing telecommunications infrastructure.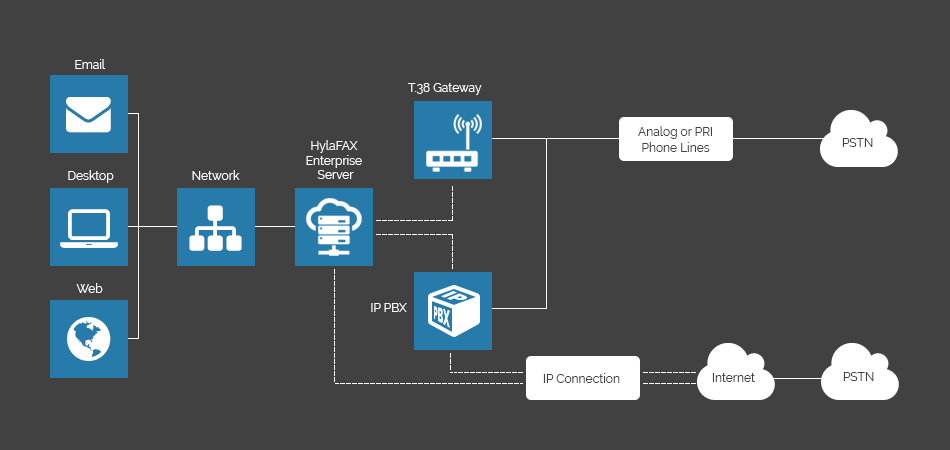 Centralized Fax Environment with Fax Over IP
Advanced FoIP installations can benefit by allowing fax calls to route to a centralized fax server. Companies will realize savings from least cost routing to and from the closest branch office as well as reduce administration by having a centralized fax environment.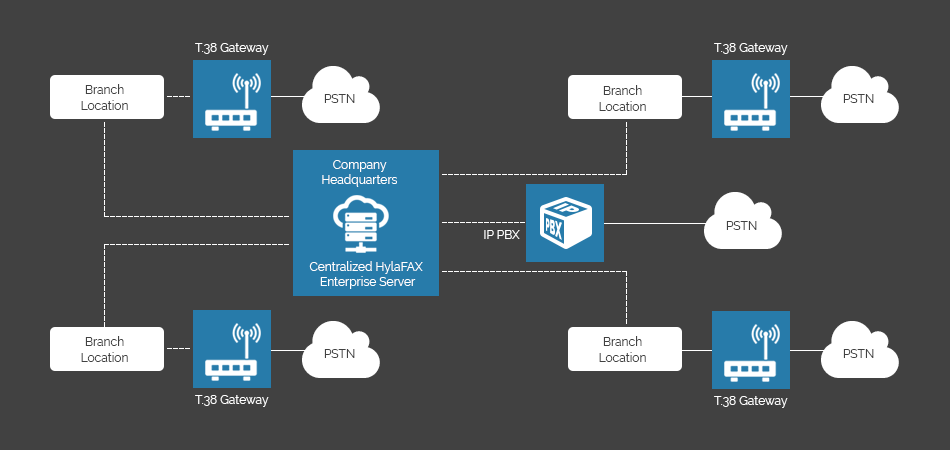 Fax Over IP with Virtualization
By eliminating the hardware based fax boards, companies are now able leverage fax in their virtual environments. IP network architectures enable HylaFAX Enterprise to quickly switch between VM instances or through remote disaster recovery servers.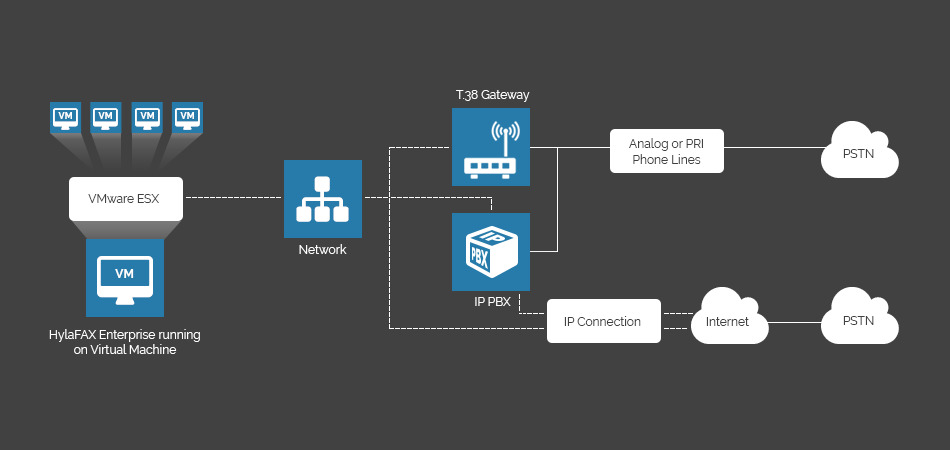 What is FoIP?
Fax Over IP, or FoIP, is a method of sending or receiving a fax through a IP network instead of through traditional phone lines. FoIP rides on the same platform as Voice Over IP (VoIP) calls, SIP. By placing calls these on the IP networks, businesses can converge their data and communications networks into one. This allows for lower operating costs, simplified voice and fax deployments, the ability to eliminate costly analog lines, and provide centralized fax environments.
What is T.38?
The main fax protocol, T.30 was development to traverse the traditional phone network and performs well as these networks provide uninterrupted transmissions. When introduced to the IP network and sent as a VoIP call, jitter, packet-loss, and latency cause the T.30 transmissions to fail. Normal voice calls over the IP networks (VoIP calls) work extremely well. Fax however, are not as forgiving. To overcome these issues, a new standard was implemented named T.38. T.38 makes adjustments to compensate for jitter, packet-loss, and latency, by encapsulating and protecting the T.30 fax. The fax call is now able to traverse the network and arrive safely to its intended destination.
HylaFAX Enterprise Edition with T.38 FoIP
Each copy of HylaFAX Enterprise Edition contains support for T.38 FoIP calls. Standard licensing includes two (2) T.38/FoIP modems and can be scaled to as high as 120 channels per server. With connections are made to your hybrid IP/TDM network, pure VoIP network, or T.38 service provider, your company will now be able capitalize on the potential uses of FoIP in your fax architecture.
* While we strongly recommend our customers implement T.38 FoIP, we do provide support for faxing directly over standard SIP lines. Please note that only uncompressed codecs (such as G.711 ulaw/alaw) are supported, and that the fax error rate may fluctuate according to the quality of your data network.
Contact a representative to discuss how HylaFAX Enterprise and FoIP can help your business or start your implementation today with our Free Trial
Features of FoIP with HylaFAX Enterprise
HylaFAX Enterprise with T.38 (FoIP) built-in
Reduce infrastructure costs through converged IP architectures
Easier deployment and maintenance with a centralized fax environment
100% software based, hardware independent and for virtualized environments
Scales to 120+ channels per server
Works over existing network interface, no PCI fax cards required
Connects with other remote T.38 capable branch offices to avoid long distance toll charges
Provides a migration from legacy (costly) POTS lines and T1 circuits
FoIP Interoperability
HylaFAX Enterprise Server with built-in FoIP capabilities provides compliance to standard T.38 and SIP protocols. The following list provides guidance to interoperability between HylaFAX Enterprise Server and T.38 enabled IP PBX's, Gateways, and SIP providers.
* Although T.38 is the recommended method for FoIP, G711 voice codec support may be available for certain situations. Please contact a representative to discuss your network environment.
T.38 SIP Providers
Virtualization
VMware (SR140 Only)
VMware ESXi Server version 6.x or later
VMware ESXi Server version 5.x or later
VMware ESXi Server version 4.x or later
Hyper-V (SR140 Only)
Windows Server 2012 Hyper-V Windows Server 2012 R2 Hyper-V
XEN (SR140 Only)
Citrix XenServer v6.0 or later within the v 6.x product line
Citrix XenServer v5.5.0 or later within the v 5.x product line
* Dialogic Brooktrout TR1034 fax boards can not be used in a virtualized environment.
IP PBX and Gateways
Cisco
Cisco Unified Communication Manager (Cisco Unified CallManager)
SIP, H.323, & (MGCP via CallManager)
release 4.2.3 or later within the 4.2.x product line. H.323, MGCP
release 5.0.4(a) or later within the 5.0.x product line. SIP
release 6.0.1 or later within the 6.0.x product line. H.323, SIP, MGCP
release 6.1.x or later within the 6.1.x product line. H.323, SIP, MGCP
release 7.0.x or later within the 7.0.x product line. H.323, SIP, MGCP
release 7.1.3 or later within the 7.1.x product line. H.323, SIP, MGCP
Avaya
Avaya Communication Manager
H.323, SIP (CM release 5.0 or greater)
Release 3.01 (with update 628.6-11410) or later within the 3.x codeline.
Release 4.03 or later within the 4.x codeline.
Release 5.0 or later within the 5.x codeline
Avaya Media Gateway Series (those capable of supporting T.38)

H.323, SIP
Firmware version 26.31.0 or later

Nortel

Nortel Communication Server 1000 Release 5.5 and later

SIP
Release 5.5 or later
Release 4.03 or later within the 4.x codeline.
Release 5.0 or later within the 5.x codeline

Alcatel

Alcatel OmniPCX Enterprise

SIP, H.323
Release 7.1 or later

Alcatel OmniPCX Office (OXO)

Siemens

HiPath 8000

SIP
Release V3.0 R2 PS19.E05 or later

RG8702 Media gateway

Aastra Technologies

Ericsson MX-ONE Telephony System

SIP
Release V3.2 SP1 or later

The MX-ONE Telephony System includes:

Ericsson MX-ONE Manager Telephony System version 8.48.1
Ericsson MX-ONE Telephony Server version 12.45.6
Ericsson MX-ONE Media Gateway Classic version 1.4_5

3Com

3Com VCX V7000 platform

SIP
Software version 9.0.7 or later

3Com Media Gateway

SIP
Software version 4.40.211.387 or later

Mitel

Mitel 3300 MXe

SIP
Mitel 3300 MXe controller software version 9.0.3.15 or higher is required.

Quintum

Quintum Tenor Series

SIP, H.323
Release P104-12-10 or later

ShoreTel

IP PBX/Gateway (Controlled Release):

Software Release 10 Build 15.6.4207.0
Hardware Version 220T1A Switch
SIP
Requires Dialogic SDK 6.2.3 and specific configuration parameters. Please contact iFAX Solutions.

AudioCodes

Mediant

SIP (using UDP)
Software version 5.00A or later

MP-114

SIP (using UDP)
Software version 5.60A or later

Patton

Patton 4960 PRI Gateway

SIP
R5.4 2009-07-20 or later

Patton 4554 BRI Gateway

SIP
R5.3 2009-05-20 or later
* If you do not see your T.38 network appliance/service listed, please contact us to discuss interoperability or recommendations for your network environment. As new T.38 compliant products become available, we will add them to our list.